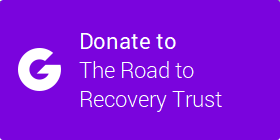 Volunteering we're looking for us much help as you can give!! Please click here for our volunteering form.
Join us – becoming a member is easy through either the online form here or by downloading the membership application form and posting the completed form to our registered address.
What members do
Members support the aims and work of the Road to Recovery Trust.
Members elect the people who serve as trustees and take any decisions about changes to the articles which govern the Charity.
Members are invited to the Annual General Meeting.
What we will do
 We will keep our members informed of our work and progress and invite you to take part in events and activities
What we won't do
We hold only the personal information we need to keep in touch with you and to comply with the regulations which all charities must do. Personal information is strictly confidential and will not be used for any purpose other than to keep you informed.
We will not disclose member information to any other organisation.